App Movieloci for iPhone, Android and Windows Phone 7

Do you like movies and travelling? Movieloci is thus a must-have App for your phone. It will tell you not only what has been filmed in the location you are now but also anywhere in the world.
The application will provide you with:
Fast-growing database of filming locations
Automatic location finding (through Wi-Fi and GPS) or searching for any location in the world
Detailed information about the filming locations: address, GPS position, the list of movies and filming shots
List of locations (addresses) and movies
Possibility to track your location wherever you go
Možnost sledování polohy při vašem pohybu.
And that´s just the beginning, we prepare many other functions for you!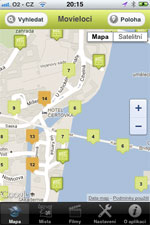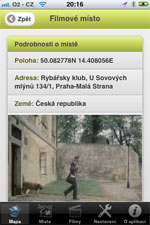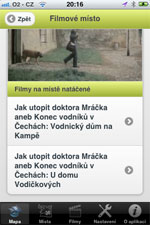 Movieloci.com intends to map filming locations all around the world. And you can become a part of this project, too. All you have to do is to register. If you want to know where your favourite movie was filmed, upload the movie on Movieloci.com and other users will help you find the location. Also you can look forward to pictures that will show you how the location has changed sice the movie was filmed there.
Attention!
As there are plenty of locations in the map, the speed of the App and the amount of data transmition depend on the map resolution. If you own iPhone 3G we do not recommend zooming-out to much, you would rather search for the specific address.
Application for Android and Windows Phone 7
Under development.
Users That Contribute the Most